KNOWIFY ADVISOR
Following is a very rough outline for the page, but a good start …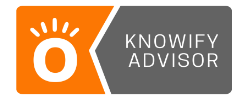 The contracting industry is demanding higher efficiency and more professionalism from all of its players. You cannot let your business fall behind. Whether you do commercial construction, residential contracting, or service work, Knowify and EGiS Technologies will help you step up.
Your business at your fingertips.
Let your employees submit expenses, track time, get job information, or upload images and comments from their smartphones. With Knowify's app, your organization will run smoother and paperless.